About us
The Centre of Research in Data Science (CoRDS) seeks to promote research into all aspects of Data Science. Data Science has become one of the most intensively researched areas within the Computer Science discipline and the research carried out by the group will be at the cutting edge of new developments in this field.
The centre has a strong research profile in areas such as Big Data Processing and Data Stream Mining. We have a strong focus on developing novel techniques for integrating large streams of data in real time to support online query processing. We have developed novel methods for change detection in data streams and capture of recurrent patterns. Others research areas of interest include Text Mining, Machine Learning, Information Visualisation, and Simulation and Modelling. The application areas where research carried out by the group is being applied are Smart Business, eHealth, Computational Sport Science, Telecommunication, Social Network, Power and Electricity and City Planning.
CoRDS is based at the School of Engineering, Computer and Mathematical Sciences and has a number of research collaborators, both within New Zealand and overseas. In addition, individual members of the group have strong connections with industry in New Zealand, some of which have sponsored the group's research activities. The group seeks to attract doctoral students who have a strong interest in researching into any area of Data Science and provides financial support to these students whenever funds permit.
Research spectrum
Following is the research spectrum diagram with core research areas, application domains and projects.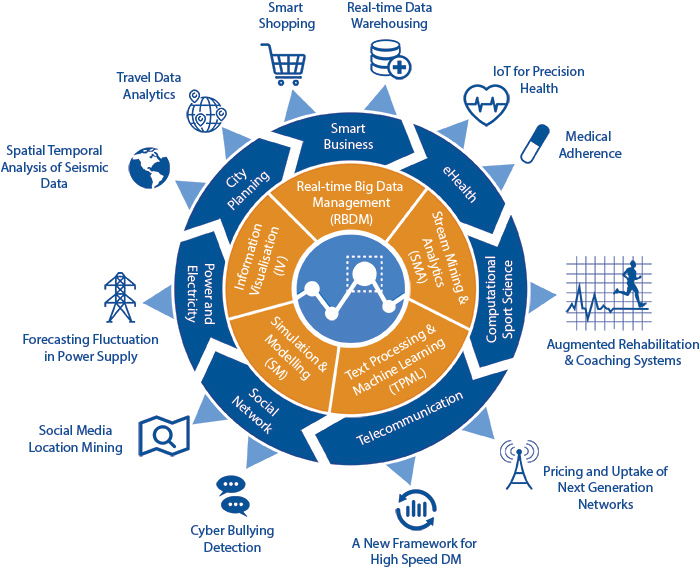 Useful forms
It is strongly recommended that you download the current form each time you wish to use it rather than using one saved on your computer from an earlier occasion.
Top-up for Conference Travel Application Form
This form allows the CoRDS members to apply for conference top-up fund.
Download top-up for conference travel application form
---
Research Assistant Application Form
Use this form to apply for research assistant.
Download research assistant application form
---
Inviting Visitor Application Form
Use this form to apply for an inviting visitor to CoRDS.
Download inviting visitor application form
---
Scholarship Application Form
This form allows potential students to apply for research scholarship funds in the CoRDS.
Study with us
Our research spectrum is in data and knowledge engineering. We invite you to study your PhD with us.